History: Hannover Fair opens in 1947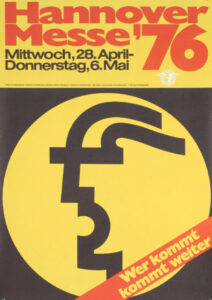 History: Opening of the Hannover Fair in 1947
On this day in 1947, the first Hannover (Trade) Fair opened in an undamaged factory building in the south of Hannover. British military authorities organized the fair to support post-war Germany's economic success. Some 1,300 exhibitors showed a cross-section of German export production, including dental prostheses, collapsible strollers and German's future export sensation, the VW Beetle. The fair was a starting signal for the German economic miracle, counting more than 700,000 visitors from 52 nations in only 21 days. Hannover succeeded the then East German city of Leipzig as the major new trade fair city for West Germany and the fair developed into one of the most important industrial fairs in the world.
Details at https://bit.ly/36BoDMo
#Hannover #InternationalFair #PosterArt #VintagePoster #VintagePosters #fun #art #graphics #posterconnection #originalposter #vintagefinds #interiordesign #vintagehome #vintagedecor #graphicdesign