History: Adolphe Mouron Cassandre born in 1901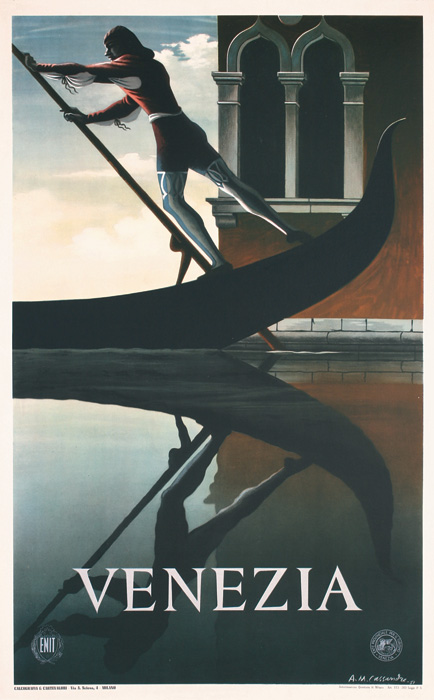 History Today: Adolphe Mouron Cassandre born in 1901
On this day in 1901, the poster artist and typeface designer A.M Cassandre (born Adolphe Jean-Marie Mouron) was born in Kharkiv, Ukraine to French parents. After settling in Paris in 1915, the young artist studied at the Ecole des Beaux-Arts and the Academie Julian and opened his own studio in 1922. Cassandre learned the techniques of poster production while working for the Parisian printing house Hatchard et Compagnie. Between 1923 and 1936, he created several enormously influential advertising posters, among them "Etoile du Nord" (1927), "Dubonnet" (1932), and "Normandie" (1935). In 1927, Cassandre co-founded the advertising agency Alliance Graphique. He designed magazine covers, advertisements, logos, and typefaces (among them the popular "Peignot" from 1937). In 1936, he was honored with an exhibition of his works at the Museum of Modern Art in New York. Cassandre worked in the U.S. during the late 1930s (Container Corporation of America) before returning to Europe in 1939 to join the French army fighting the German invasion of World War II. After the war, Cassandre concentrated on painting, theater, and ballet designs. Following a long and difficult battle with depression, he committed suicide in his apartment in Paris in 1968.
The poster will be offered in our spring sale. Inquiries via www.posterconnection.com
#Cassandre #PosterArt #VintagePoster #VintagePosters #vintage #art #paper #graphic #graphics #artoftheday #picofhteday #fun #cool #posterconnection #originalposter #vintagefinds #interiordesign #vintagehome #vintagedecor #graphicdesign https://goo.gl/YC5rQA https://goo.gl/GXcrV8