Today is National Violin Day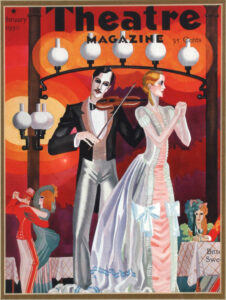 Today is National Violin Day
National Violin Day is celebrated annually on December 13th. The violin, sometimes informally called a fiddle, is a string instrument, usually with four strings tuned in perfect fifths. It is the smallest, highest-pitched member of the violin family of string instruments, which includes the viola and cello. The violin acquired most of its modern characteristics in 16th-century Italy, with some further modifications occurring in the 18th century. Violinists and collectors particularly prize the instruments made by the Gasparo da Salò, Giovanni Paolo Maggini, Stradivari, Guarneri and Amati families from the 16th to the 18th century in Brescia and Cremona and by Jacob Stainer in Austria.
Inquiries via posterconnection.com.
#Violins #PosterArt #VintagePoster #VintagePosters #vintage #art #paper #graphic #graphics #artoftheday #picofhteday #fun #cool #posterconnection #originalposter #vintagefinds #interiordesign #vintagehome #vintagedecor #graphicdesign #designporn https://goo.gl/YC5rQA https://goo.gl/GXcrV8