History: United States Navy founded in 1775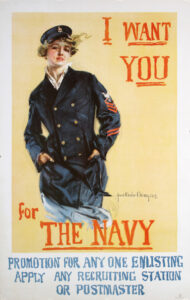 History: United States Navy founded in 1775
On this day in 1775, the Continental Congress authorized the first American naval force. Thus began the long and prestigious heritage of the United States Navy. Between 1922 and 1972, the Navy celebrated its creation on October 27th, the date of Theodore Roosevelt's birth. The Navy League of the United States designated the date due to Roosevelt's foresight and vision in elevating the U.S. Navy into a premier force. The change to October 13 was seen as a more relevant date in line with the first official action legislating a navy. Since 1972, the Navy has officially recognized October 13th as the official date of its formation.
For inquiries, email posterconnection@gmail.com.
#USNavy #PosterArt #VintagePoster #VintagePosters #vintage #art #paper #graphic #graphics #artoftheday #picofhteday #fun #cool #posterconnection #originalposter #vintagefinds #interiordesign #vintagehome #vintagedecor #graphicdesign https://goo.gl/YC5rQA https://goo.gl/GXcrV8