History: Today is the 19th anniversary of 9/11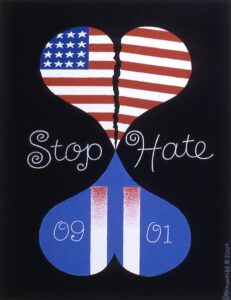 History: Today is the 21st anniversary of 9/11
On the morning of September 11, 2001, a series of 4 coordinated suicide attacks were carried out by the terrorist group, Al Qaeda. 19 militants hijacked 4 California-bound airplanes from East Coast cities in the US and used the planes to target major American landmarks. Two planes crashed into the two towers of the World Trade Center, which caused them to collapse within two hours of being struck. One plane crashed into the Pentagon building while the fourth plane, thought to be bound towards Washington DC, crashed in a field in Pennsylvania after passengers tried to fight back against the hijackers. The attacks claimed the lives of about 3,000 people and destroyed property worth billions of dollars. The attack was the precursor to the War Against Terror and the War in Afghanistan. Source: timeanddate.com.
Design by Alex Steinweiss
#911 #PosterArt #VintagePoster #VintagePosters #vintage #art #paper #graphic #graphics https://bit.ly/3vWL77h https://goo.gl/GXcrV8