Today is National Red Wine Day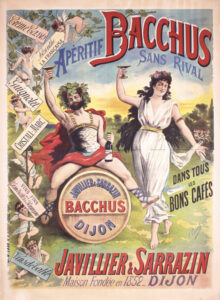 Today is National Red Wine Day
It's Red Wine Day! There are many different types of red wine to enjoy — Cabernet Sauvignon, Merlot, Zinfandel, Malbec, and Shiraz are a few examples. With over 900 million gallons of wine consumed each year in the U.S., wine is one of the most preferred alcoholic beverages in the country. It is believed that people have been enjoying wine since 3100 B.C. In 2007, an archaic winery was uncovered during an excavation in an ancient Armenian cave dating back to the Stone Age. Did you know that red wine has certain health benefits? That's right! Some red wines can be full of antioxidants that can help reduce the risk of heart disease and Alzheimer's disease. Just make sure to drink in moderation! Source: punchbowl.com.
Inquiries about this original, vintage poster at posterconnection@gmail.com
#RedWine #VintagePoster #VintagePosters #vintage #art #poster #posters #design #graphicdesign #paper #graphic #graphics #originalposter #artoftheday #picofhteday #fun #cool #posterconnection #vintagefinds #interiordesign #vintagehome #vintagedecor #designporn https://goo.gl/YC5rQA https://goo.gl/GXcrV8