History: Berlin divided by Wall in 1961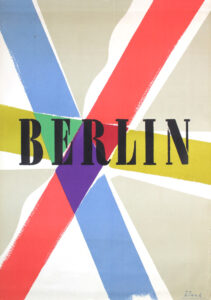 Today in History: Berlin divided by Wall in 1961
On this day in 1961, troops in East Germany sealed the border between East and West Berlin, shutting off the escape route for thousands of refugees from the East. Barbed wire fences up to six feet (1.83 meters) high were put up during the night, and Berliners woke this morning to find themselves living in a divided city. Train services between the two sectors of the city were halted and all road traffic across the border was stopped.
Within days troops began replacing the barbed wire with concrete blocks, and the wall became a permanent structure. The concrete section eventually reached nearly 12 feet (3.6m) high and 66 miles (106km) long. There was a further 41 miles (66.5km) of wire fencing, as well as more than 300 watchtowers. Nearly 200 people died trying to cross the wall, and another 200 were injured.
As the Iron Curtain over Eastern Europe began to lift in 1989, thousands of East Germans found another escape route, via Hungary and Austria. On 7 November 1989, the Communist government of East Germany resigned, and two days later a jubilant crowd tore down the Berlin Wall piece by piece. The following year, East and West Germany were finally reunited.
Inquiries about this original, vintage poster at posterconnection@gmail.com.
#TheWall #BerlinWall #Berlin #PosterArt #VintagePoster #VintagePosters #fun #art #paper #graphic #graphics #artoftheday #picofhteday #fun #posterconnection #originalposter #vintagefinds #interiordesign #vintagehome #vintagedecor #graphicdesign #designporn https://goo.gl/YC5rQA https://goo.gl/GXcrV8