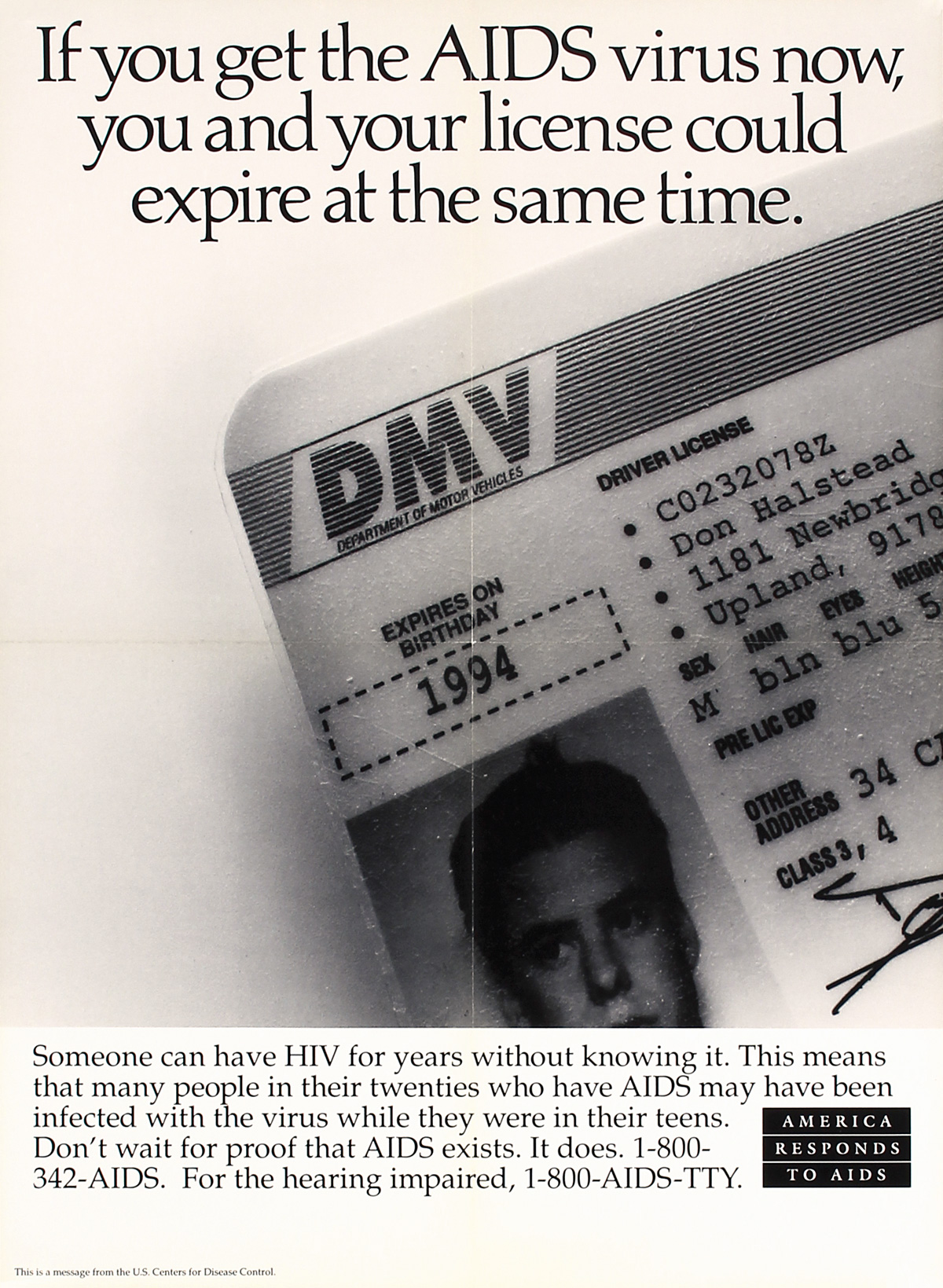 Our June 8, 2019 poster auction features four collections of AIDS Awareness posters from around the globe. The collections are separated geographically and stem from the 1980s through today. Additional images may be viewed via the auction catalogs at posterconnection.com (lots 236 – 239).
AIDS Awareness Posters
In the mid-1980s the HI Virus brought about a previously unimaginable engagement worldwide with taboo subjects such as homosexuality and the use of condoms. It was about coming up with an appropriate form of communication for an incurable, fatal infectious disease, about sexuality, fears and dying. – and about avoiding a mass panic and the resulting marginalization of those affected by the illness. Messages that were not the easiest communicated publicly! At the same time, global efforts were required to combat this medical and social catastrophe. Indeed, HIV was intimately linked with globalization, the blurring of borders and boundaries,
mobility, migration, and circulation. The poster was chosen as the main medium of information and education for coping with these challenges.


AIDS posters and their text and image messages have now been a feature of our urban spaces for over 35 years. Given how HIV/AIDS has changed the world, these are historical documents with a tremendous potential for evaluation, analysis, and interdisciplinary study. The way in which campaigns have managed continually to realign themselves from the 1980s to the present day deserves attention. The posters provide a lasting visual record of communication about AIDS over the entire history of the disease with various strategies from different cultures all over the world.
The posters tell different stories and provide a diverse field of study into common features and differences in cultural contexts. The examples of African posters and those of other non-western origins, for instance, show a striking discrepancy between the visual worlds of the West and country-specific image traditions.


The question of culture-specific interpretations of the HI Virus and the AIDS disease opens a vast area of investigation and research. Informing and educating people effectively about the risks was and remain a common concern of all the campaigns worldwide. And yet the reactions of different societies and cultures to HIV/AIDS very much depend on the dominant perceptions about infection and disease, sexuality, gender issues, etc. How do the campaigns deal with that?
HIV/AIDS has shaped cultural, social and political developments and influenced the history and more importantly the everyday life of our modern globalized world around the turn of the millennium. AIDS posters are key witnesses and, in many ways, telling witnesses too.
Since the beginning of the epidemic, more than 78 million people have been infected with the HIV virus and about 39 million people – 700.000 of which in the USA – have died of HIV. Africa remains most severely affected, with nearly 1 in every 25 adults (4.1%) living with HIV and accounting for nearly two-thirds of the people living with HIV worldwide.


Source: AIDS: Based on a True Story by Susanne Roessiger, Exhibition Catalog, Dresdener Hygiene-Museum, 2015.
For inquiries, email posterconnection@gmail.com.
#AIDS #PosterArt #VintagePoster #VintagePosters #vintage #art #paper #graphic #graphics #artoftheday #picofhteday #posterconnection #originalposter #vintagefinds #interiordesign #vintagehome #graphicdesign https://goo.gl/YC5rQA https://goo.gl/GXcrV8